In Maharashtra is the temple town of Shirdi which is built around the teachings of Sri Sai Baba who was the revered saint that had lived here for over fifty years. Shirdi attracts more than 60,000 devotees and followers of different faiths and religions every day, which has made it one of the busiest pilgrimage spots in India. At the centre of the town is the Shirdi Sai Baba Samadhi Mandir where the mortal remains of Sri Sai Baba are kept.
How does one get VIP Darshan at Shirdi?
Tourists can either do it the hard way by queuing up like everyone else that goes for Baba's blessings. Or if tourists are in a hurry they could opt for the VIP Darshan, the tickets for which could be booked in advance through the temple's online portal. On the day that they go for Darshan, they should proceed to Gate 3 and get their identity verified so they can proceed further.
Another way to get a Darshan is to opt for the Quick Darshan option, which will cost INR 1500.
The Booking of the Darshan
If tourists don't want to wait and don't mind paying a little bit extra, then they could book both the VIP Darshan and Aarti online. The Darshan costs INR 200 and its only INR 600 for the morning aarti, which is called the Kakada aarti. The price is INR 400 for the noon, evening and night aarti slots.
These are the new rates that have been in effect from March 2016. Tourists can visit Shri Sai Baba Sansthan Trust Online Services online website to make their bookings. The entry for the temple for them is through Gate 1, which is the VIP gate. Tourists could also get a Darshan ticket at a VIP gate on all days except on Thursdays as there is a high demand it being an auspicious day.
Timings For Darshan At Shirdi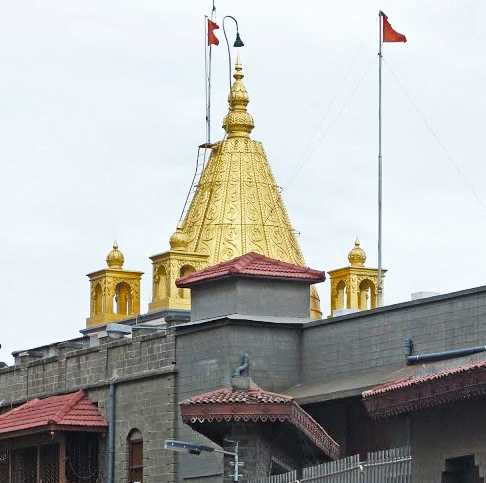 Tourists who visit Shirdi shouldn't miss these events when they visit:
· Morning aarti (4.30 AM): Rs 500
· Madhyan aarti (Noon): Rs 300
· Dhoop aarti (Sunset): Rs 300
· Shej aarti (10.30 PM): Rs 300
Aarti timings at Shirdi's Sai Baba temple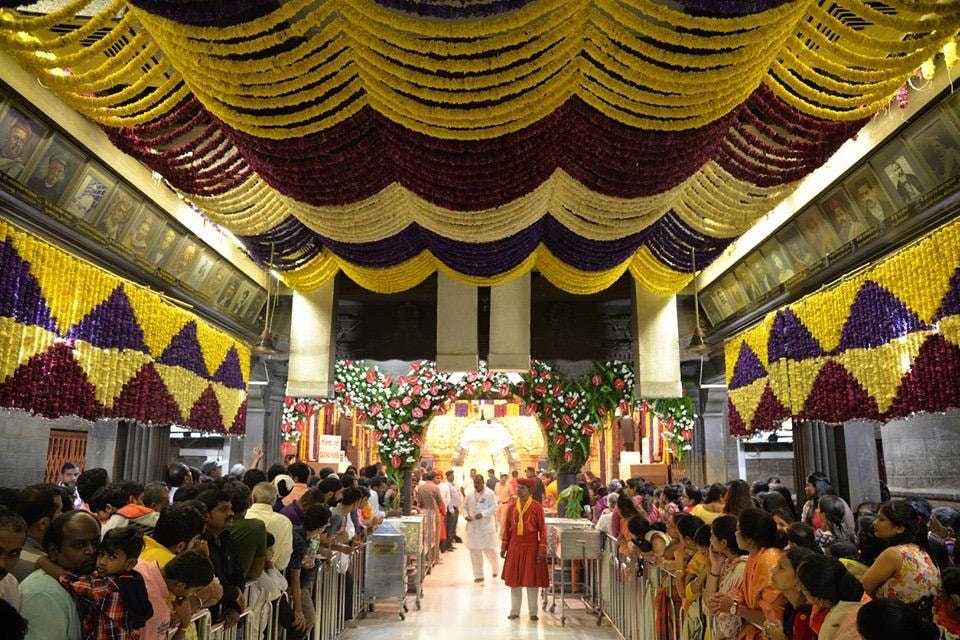 The Samadhi Mandir where Sai Baba's remains are kept is the most crowded spot of all activities. It is the main temple and attracts the most number of devotees here.
The tourists are going to have to make a schedule around the aarti timings at the Samadhi Mandir to explore Shirdi when they visit. The temple is open to devotees from 4 AM to a little while after the last aarti that ends at 10.30 PM. Tourists can visit any time in between the opening and closing hours. But if tourists want to time their time to visit the special aartis, they should have a look at here's a look at the following schedule:
· 4 AM: Temple opens
· 4.15 AM: Bhupali starts
· 4.30 AM: Kakad aarti begins
· 5 AM: Bhajan in the Samadhi Mandir is chanted
· 5.05 AM: Mangal Snaan is given in the Samadhi Mandir
· 5.35 AM: Aarti "Shirdi Majhe Pandharpur "begins
· 5.40 AM: Darshan begins in Samadhi Mandir
· 11.30 AM: Dhuni pooja with ghee is performed in Dwarkamai
· Noon: Afternoon Aarti begins
· 4:00 PM: Pothi which is a devotional reading starts in the Samadhi Mandir
· Sunset: Dhoop Aarti starts
· 8.30–10 PM: Devotional songs are sung in the Samadhi Mandir & Cultural Programmes are performed if scheduled
· 10:30 PM: Shej which is the night Aarti
· 11.15 PM: Samadhi Mandir temple shuts for the day
Where to Stay in Shirdi
The Shirdi Sai Baba temple trust provides an enormous range of accommodations for the numerous devotees that come to pay their respects. They offer everything from a hall and dormitory lodging, to many budget rooms with air-conditioning.
The rates start from INR 50 to INR 1,000 a night depending on the room required. The newest places to stay were built in 2008 and are found at Dwarawati Bhakti Niwas. The biggest residential complex which consists of 542 rooms of various categories and the Bhakta Niwas is also around 10 minutes walking distance from the temple complex. Tourists can book the hotels at the Shri Sai Baba Sansthan Trust Online Services website. Or they could visit the Shri Sai Baba Sansthan Trust Reception Center in Shirdi.
An alternative approach is to find hotels such as:
The Marigold Residency which starts at INR 2,500 and goes higher depending on the room

Hotel Sai Jashan which starts at INR 2,000 rupees

The Keys Prima Hotel Temple Tree which is INR 3,000

The St Laurn Meditation & Spa INR 3800 and upwards

The Shraddha Sarovar Portico INR 3,000 and upwards

Hotel Bhagyalaxmi which costs INR 2,500 and upwards

If tourists don't have a place to stay, they could keep their belongings at the Shri Sai Baba Sansthan Trust for a low fee.
Best time to visit Shirdi
While visiting Shirdi, it is essential to decide whether to go during the auspicious days or when it is less crowded. The festive months of September till December are the busiest in the Shirdi calendar; it draws the maximum crowds during Dussehra and Diwali. The other times its very crowded are Holi, Guru Purnima, before and after school exams, and Gudi Padwa which is the start of a new year according to the Marathi calendar.
The days it is least crowded during the week at the Shirdi temple are Monday, Tuesday and Wednesday. The crowds are usually seen arriving on Wednesday night for Thursday which is said to be an auspicious day for all Sai Baba devotees. The weekends tend to be more crowded than weekdays. The best time to beat the crowds is between noon and in the evening on weekdays.
How To Reach Shirdi?
Shirdi is a city that is well connected to most of the major Indian cities and tourists can take the road, rail or air to get to Shirdi city.
By road: the city of Shirdi is 83km from Ahmednagar, it is 307km from Mumbai, it is 112km from Nasik and is 126 km from Aurangabad town. Most of the highways are in good condition, though there is heavy traffic of buses and a large number of tourist cabs can be a hindrance while driving.
By rail: the city of Shirdi is connected by railway to many major cities in the South and Western India which include Mumbai, Hyderabad, Chennai and Bangalore.
By flight: The quickest way to get to Shirdi is by flight. People will arrive at Sri Sai Baba International Airport which is only 15km from the Samadhi Mandir and the centre of the town. The air operators are Alliance Air that operates daily from Mumbai to Shirdi. Recently the carrier SpiceJet had started daily non-stop flights from Delhi as well. It already has airways from Hyderabad to Shirdi and Bangalore to Shirdi. Soon as well the airline will begin from Vijayawada.
By helicopter: for those who want a completely private experience of a trip to Shirdi can use Sky Aviation as it operates a helicopter-taxi service from Mumbai at Juhu aerodrome to Shirdi. Tourists will be taken to Shirdi and back on the same day by a six-seater chopper. The deals include a VIP Darshan and travel within Shirdi. The charter of the helicopter is priced at INR 330,000 for a group of six members.